Advanced Security. Scalability
Unleash the potential of cloud computing by embracing Orion's cloud migration services.

Cloud computing has proved an excellent choice for business organizations to migrate their workloads to the cloud with a million customers worldwide. Be it an enterprise application, websites, databases, or servers, companies can migrate any workload to the cloud to level up their business operations. During cloud migration, companies can level up their operational and technical flair with every step along the way.
Orion's cloud migration services help enterprises lower their physical resource needs. On the pillars of proven methodologies and an industry-centric approach, we will help you in hassle-free cloud migration. Orion's cloud migration services benefit companies in IT cost savings, operational resilience, and productivity improvement. Our cloud migration experts hold years of experience to effectively and efficiently initiate your cloud adoption, reducing downtime.
Cloud migration is essential for business organizations focussed on achieving their business growth, exploiting digital transformation while preparing for technological disruption. When a company shifts its data centers to the cloud to run the business operations, it is called cloud migration. Whether you want to migrate to Azure, AWS, or Google cloud, Orion cloud migration experts hold excellence in navigating AWS tools, Microsoft Azure tools, Google migration tools, Linux, DevOps, networking, Etc. to perform a seamless end-to-end digital transformation. We will first work on a cloud strategy, operational model, and a roadmap combining your business requirements and our technical insight.
Our team works round the clock to respect your deadlines and to provide solutions that are second to none. We understand the nuances of each business and we marry it to our understanding of the industry. What you get is a front end development team who are not just technically adept but empathetic to your business needs. We ensure professionalism and diplomacy in our approach. We undertake projects of any size and nature and deliver consistently across any verticals.
Cloud Migration Advantages


Simplified Infrastructure Management






Improved Operational Efficiency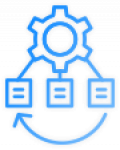 Easy Maintenance and Support
Navigate Your Business Complexities with Cloud Migration.
Your Trusted Cloud Migration Service Partner