hire top react developers
Hire Top React Developers from Orion for Your Development Needs
Orion esolutions has been facilitating the tech-development needs of the top businesses around the globe. Started with a simple mission to provide quality web or mobile solutions, Orion has been at the forefront of helping businesses to realize their true potential. Though the company specializes in the latest tech offerings, Orion is known for developing state-of-art REACT.JS applications.
React.js or React is the most popular front-end JavaScript library for developing mobile applications. It is simple and neat. Being a developer friendly language for building interfaces for single-page applications, it is the most preferred choice of the developers. It is particularly useful in creating large web or mobile applications.
Well, we are the solution-providers. We offer industry-certified React developers for your short-term or long-term project. We select our team of React developers after a rigorous selection procedure. Once selected, they are trained on the latest developments taking place in the tech world. Our Flexi-pay payment models suit your budget as well. Being the number one choice of small and medium businesses for their React development needs, Orion understands that developing business applications to scale your business should not burn a hole in your pocket. With Orion, you only pay for the services you need. When you collaborate with us, we work as a team. We ARE your team. Timely delivery of the application ensures time and monetary savings. As we are dedicated to the project, you are free to focus on the tasks that require your immediate attention.
Guaranteed Response within One Business Day!
OUR REACT EXPERTISE AT A GLANCE
React.js is a simple, fast, easy-to-learn language that can be used to create front-end UIs. We are experts at delivering a wide range of solutions to diverse industries. We offer the best-in-class professional development team for your project requirement. Have a peek at our expertise.
LEARNING PLATFORM DEVELOPMENT
Our team of React JS developers is experienced in a range of enterprise applications for all businesses.
CUSTOMER OUTREACH APPS (Social media)
React.js comes with a pre-written JavaScript code that can create a phenomenal user-end interface. It helps in providing your viewers a very interactive and fast application.
CUSTOMIZED PORTAL DEVELOPMENT SOLUTIONS
Your website is critical to your business revenue and profit. Your business is as good as your website in today's tech-driven world. It is possible to harness the potential of your web footprint beyond your imagination. Hire Orion React Developers to build customized online portals. They are suitable for all businesses large and small.
You are in the business to sell! It is that easy, a concept. At Orion, we champion the cause of enhancing business capabilities by offering you the best e-commerce applications to take your business to the next level.
Your users will love the web-interface we will develop for your business website. React.js offers great dynamism to your existing website. With the help of its unique framework, we will design interactive dashboards and applications that offer a real-time user experience.
We Are Transforming The Businesses Across Diverse Industries
Your vision is a reality; Orion ensures that it happens. We are driven to provide you the best tech capabilities to help you realise the true potential of your business. As the best React development company, we are experienced in catering to the specific requirements of your businesses spanning across diverse industries ranging from media, healthcare, retail, banking, travel, etc. Our industry-specific footprints at a glance:
We offer HIPAA compliant software solutions and applications. For eg; claim adjudication, PACS/HIE APIs for enhancing improved medical care.
We master in delivery e-commerce applications like shopping portals, shopping guide applications, chatbots, etc. for improving the customer experience.
You can gain efficiency through our high quality and enterprise-grade software applications like asset management apps, crypto wallet apps, POS, etc.
We build custom made travel and tourism applications such as virtual tours, AR navigation, payment gateways, kiosks, ERP and eTicketing system.
Digitize the media and entertainment experiences with applications such as video streaming, CRM, brand management, AI chatbots, etc.
Take a step into the modern learning scenario with book reading applications, knowledge-based applications, LMS, etc.
UNLEASH THE REACT.JS ADVANTAGE TO SCALE YOUR BUSINESS.
React.js is the creation of Jordan Walker, a FB engineer. There were existing Java Script platforms at that time; however, React.js was developed to provide enhanced capabilities to the existing JavaScript. Few salient features of React.js:

React supports two-way data binding. That means that it ensures auto reconciliation between the model and view components of the MVC architecture. You do not have to re-load the complete data on the webpage when you refresh. React.js allows for creating large web applications that can change data without reloading the whole page.

The model-view-view-architecture helps in bringing about solid design foundation and enhanced user-experience.

In React.js, instead of using the regular JaveScript, the language utilizes the JSX feature. The HSX feature allows HTML quoting, and the HTML tag-syntax to render sub-components.

The 'code-once-use-it-again' feature is an advantage to ensure fewer repetitive coding. You can use the existing HTML framework on multiple platforms.

The safety of your data is a given within the React eco-system. With the multi-layer data segregation, your application will be secure from phishing or bug attacks.

React comes with an in-built data testing and analysis feature. The features such as React Testing Libraries, Rendering Component Trees, or Running a complete app testing help to remove the bugs from the backend.
Why Do Our Clients Love US? It is Simple. We Stop at Nothing But Delivering Excellence.
The wide-range of experience and excellence of our React.js development services allow us to help businesses in diverse industries. We help them achieve the best potential from their web or mobile applications. As a top-rated React.js development company, we make sure to assign some of the best and highly experienced React programmers for the projects we take up. We free you from the burden of hiring and training the React developers. Below mentioned are few reasons that make us an ideal partner for your success.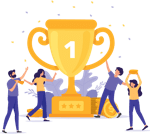 WE DELIVER WITHIN YOUR BUDGET
We offer Flexi-pay payment plans. We understand that cost of development of an application eats into the profit of many small businesses. Therefore, we ensure timely delivery of the development projects we undertake and within the prescribed budget. What's more, you pay only for the services rendered.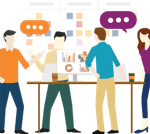 WE TAKE CARE OF RECRUITMENT AND TRAINING NEEDS FOR YOU
Your business requires your constant attention. Therefore, we free you from worrying about your React development needs. Our team of React consultants will provide you with a host of solutions for your applications, from integrating multiple data sources into one system to implementing automated testing platforms. We hire the best for you, thereby saving you hassles of training, recruiting, and retaining the workforce.

WE HELP YOU LOWER DOWN COST OF RUNNING YOUR OPERATIONS
Orion provides you with industry-certified React Developers who work from remote locations. That brings down the overall cost of running the operations. You no longer have to invest in physical infrastructure.

USER-FRIENDLY AND INNOVATIVE WEB SOLUTIONS
React Developers at Orion eSolutions have expertise to provide great flexibility and scalability to your business. We offer end-to-end integration of your applications with the host of Cloud services as well.

INTEGRITY AND TRANSPARENCY
We follow high-degree protocols in ensuring transparency, integrity, and maintaining truest when we work with you. Our developers work day-and-night to keep your data secure. We run multiple test runs to rule out any glitches. Our team works on fixing bugs at the backend so that your customers can have a seamless experience on your React App.



2,000+
Man Years Experience

2,500+
Satisfied Customers

Frequently Asked Questions
There are many features of React.js that are useful. However, two features JSX and Virtual DOM are really useful to the developers. While, it is not necessary to use JSX while creating applications, Virtual DOM helps the developers to edit the code on the existing DOM without having to change the content of the whole page.
React.js uses JavaScript. It is useful in creating user-friendly interface. Additionally, it can be used to create dynamic web content, photo slideshows, interactive forms, and even animation.
Experience is non-negotiable. It is important that the web development company has a minimum of 5 years of experience, served small and large businesses, and completed more than 200 projects.