Hire Angular Developers in India
The best tech companies in the world use the Angular development platform for their web or mobile applications. The platform-tools help to create highly responsive and robust single-page web applications. So, if you are looking for a developer to help you create feature-rich, cross-platform web or mobile applications, you have come to the right place.
Orion esolutions has created a name in the tech solutions industry for its highly talented, technically sound, and professional developers. Our team of developers has in-depth knowledge of the Angular platform and its in-built customization tools. We take pride in sharing that we have worked with over 2000 clients from diverse industries. All our clients swear by our worth ethics and the quality of our work. No wonder we retain all our clients and have 60% of our business through referrals.
We have the reputation of delivering high-tech web or mobile apps developed on the Angular platform. Your business needs agility and capabilities to breach the next frontier. Hire developers from Orion to help you with that.
Few Reasons That Your Business Requires Angular App Development:
Guaranteed Response within One Business Day!
Our Angular Capabilities that Our Clients Love Us for
It takes years of hard work and thousands of person-hours to win the trust of our clients. Orion has created a name for itself for precisely the same reasons. We are focused on helping you enhance your business potential with the help of our expertise. We are the masters of the Angular framework and its in-built customization libraries and tools.
Cross-platform Application Development
It is frustrating to code specific to the platform you want your app to run on. We understand that, and that is why we create Angular applications, in which you can code once and use it across multiple platforms.
Your customers need to access your business through your web or mobile applications. It is what will define the next generation of successful B2C and B2B businesses. We help businesses with the designing, customization, and management of their Business App, which is supported by the features in-build in the Angular framework.
To make your everyday work processes consistent, you need to communicate with your workforce securely and reliably. We have helped our clients to do so by creating tailor-made in-house applications. We can embed the tasks and the processes onto your enterprise web or mobile application.
Cross-platform iOS & Android App Development
One of the best aspects of using the Angular framework is you can easily design, develop, and deploy an app that works effortlessly and efficiently on an Android or iOS platform.
Seamless onboarding of the Existing App(s) to Angular Framework
If you have a legacy app or an already existing application that requires onboarding the Angular framework, contact us today. Our in-house team of developers understands the standard procedures to ensure speedy deployment of the existing application onto the Angular framework.
Having a functional app is one thing, but having an up-to-date application is another. When you hire us for your app maintenance, we ensure that your app runs on the latest technology.
Helping Businesses Transform with Technology
For over a decade, we have provided cutting-edge web and mobile development solutions to the business world over. Our team of developers has worked with small, medium, and large-scale enterprises from diverse industries. We understand industry-specific requirements. That is why, when you hire Orion, we give you complete business solutions. Our team of developers offers you unique solutions. Have a brief look at the industries we have served over the years.
All our software solutions are HIPAA-compliant. From real-time claim adjudication to PACS/HIE APIs, we provide end-to-end solutions to healthcare companies. The angular framework is unique in terms of its in-built and easy-to-use libraries and features that allow for a high degree of customization to applications. You can code once and use it across various platforms without having to write the existing code.
We provide applications that help businesses reach their customers and offer a seamless user-end UI/UX interface. Our technical expertise helps you to increase your productivity two times. Your angular application will support features such as chatbots, shopping portals, payment options, etc.
Our commitment to efficiency helps in streamlining the operations of the Logistics companies. From Couriers to movers and packers, our custom-built software provides you with speed and agility.
Our best-in-class enterprise-grade software applications like asset management apps, crypto wallet apps, POS, etc., help you gain efficiency. We have helped the best enterprises in the finance world scale their operations with our customized Angular applications. The framework provides enhanced security features to your applications as well.
We are experts in building highly responsive and easily navigable applications. We are the number 1 choice for a business operating in the Travel and Tourism industry. We provide excellent applications that provide- virtual tours, payment gateways, ERP, and e-Ticketing systems.
Single-page web applications are built on the MVC framework. It allows a high degree of scalability for you to run your applications without any glitches. E-learning platforms are typically relying big time on such applications for reaching out to the learners. We have developed immersion-learning applications and evaluation tools to help students, educators, and parents.
Angular Developers From Orion eSolutions?
Regardless of how difficult your project requirement might be, you can hire AngularJS developers from Orion eSolutions who are trained to offer robust application solutions that particularly and efficiently address the business requirements. Our range of AngularJS development services is built to deliver the very best of Angular application development to the customers. You can hire our AngularJS developers to build secure and scalable applications.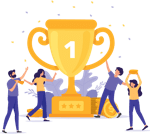 Working to maintain integrity and transparency is extremely important for us. Your business idea is absolutely safe with us. Our AngularJS developers maintain honesty and transparency at all costs.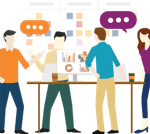 Our team of full-stack Angular developers are experienced and very well versed with the advantages of web development. They leverage the best of language to make world-class applications.

After sharing the project idea, our team provides you with a no-cost estimate and that too as soon as possible.

SEAMLESS PROJECT MANAGEMENT
We keep you free from any difficult project management problems as our experienced developer and managers work on your project.

We maintain transparency at all times by making sure that we communicate the details of the project to our clients.

You can hire our developers on a monthly, part-time, hourly or on a fixed cost basis based on your specific requirements.



2,000+
Man Years Experience

2,500+
Satisfied Customers

Frequently Asked Questions
Full-stack Angular development allows for seamless scaling and onboarding of your existing application to the framework. Our developers are experts at speedy transition and up-gradation with a new and enhanced UI experience for your customers.
Now, that is a tough question to answer. The ideal situation is that you know what you want from an Angular developer. However, a tech solution company, such as Orion, offers free of cost consultation on evaluating your business and technical requirements. Depending on the requirement, you are advised on the total cost of the project.
Everyone is good at one or the other thing. You understand your business; we understand technology. When you hire from us, our developers help you with your technical requirements. As a leading tech company in India, we have worked with more than 2000 clients in India and abroad across different industries. Our developers not only understand technology but also understand the technological requirements of a particular industry.