ORION HAS INDIA's TOP IONIC DEVELOPERS
HIRE NOW! Ionic Web Developers
Top companies around the world are moving their legacy apps, e-commerce web or mobile applications, and more to Ionic Framework. Why is that? It is because Ionic Framework offers unprecedented agility, speed, and power to your web or mobile applications.
Ionic Framework is an open-source library of mobile-optimized components in Javascript, HTML, and CSS for building highly customized iOS and Android applications.
At Orion eSolutions, we have a dedicated team of Ionic developers, who have been handpicked through a rigorous selection procedure, trained in-house just for you. Now, you can hire industry certified Ionic Developer from us to work on your enterprise applications, web or mobile, and that too within your budget.
Our clients vouch for us for providing state-of-art, innovative, scalable, and user-friendly web solutions within the prescribed timeframe and budget. No surprises then, that we retain 97% of our customers and have numerous references through them.
Orion is the most trusted name in the industry for providing tech talent for-
Wait no more. Hire Ionic Developers from Orion.
Guaranteed Response within One Business Day!
Orion IONIC EXCELLENCE AT A GLANCE
We work 24*7 to provide the latest and cutting-edge in the tech spectrum. Therefore, our quest to provide the best has taken us to offer the best-in-class Ionic Web Development Services. The ionic framework offers pre-designed, in-built UI components that you can deploy on any platform. We help our clients to scale their business by building a scalable and user-friendly web solution for them.
IONIC APPLICATION DEVELOPMENT CONsultation
You have a legacy app that needs enhancements or wants an entirely new application for your business needs. We are here for you. You can rely on our Ionic Developers, who have an average industry experience of 4+ years, to provide you with scalable and powerful solutions. Our ionic developers are experts at building and maintaining applications and providing expert cross-platform consultation to you.
PHP INTEGRATIONS AND UPGRADATIONS
Being an open-source SDK and SaaS-based UI framework, Ionic allows for developing native, hybrid mobile apps that can be customized for each platform. Right from Python, .Net, to Nodejs, etc., our team of Ionic developers works to integrate and upgrade your existing applications with PHP.
IONIC-BASED PRODUCT DEVELOPMENT SERVICES
You visualize; we create. It's that simple. With over a decade of experience, Orion specializes in turning your vision into a reality. We pay attention to your needs, understand your business requirements, design, develop, deploy, and maintain ionic web or mobile applications for you. Yes, we do it all for you!
With the emergence of the Cloud Ecosystem, you no longer have to spend a huge amount of money towards developing and maintaining physical infrastructure for running your business operations. You can unleash and harness the true cloud-potential by partnering with our Ionic experts, who have expertise in cloud services along with multiple backend PHP solutions.
API INTEGRATION DEVELOPMENT
Being an experienced Ionic development company, our Ionic developers are experts at private, public, and internal APIs deployment. It's hassle-free experience integration with third-party services, and we help you achieve it.
As India's top tech-solution provide, Orion has a tradition to provide its best to its customers. Our Ionic development capabilities are the best in the industry. Our rich and diverse experience has helped us to offer tech-solutions to various businesses. You could be a media company, consultancy, healthcare provider, or more; if you require ionic applications, we are here for you. Have a brief look at the industries we have served.
We offer HIPAA-compliant software solutions and applications. For example- claim adjudication, PACS/HIE APIs for enhancing improved medical care. Ionic framework and its inbuilt features allow for a high degree of customization to applications. You can code once and use it across various platforms to provide a similar experience to your applications.
We help enhance the e-commerce capabilities of your web or mobile applications. We provide customized e-commerce applications with inbuilt features such as chatbots, shopping portals, payment options, etc. Of course, we do wonders with your already existing Legacy Applications.
You can gain efficiency through our high-quality and enterprise-grade software applications like asset management apps, crypto wallet apps, POS, etc., powered by the Ionic framework.
Travel and tourism is a highly volatile business, sensitive to the whims of the travelers. Our expertise in building high-response and easily navigable applications has helped the best in the industry. We provide excellent applications that provide- virtual tours, AR navigation, payment gateways, kiosks, ERP, and Ticketing systems.
Digitize the media and entertainment experiences with applications such as video streaming, CRM, brand management, AI chatbots, etc.
The education world is moving at a breakneck speed towards digitization; so are we. We partner with a few of the best education companies to provide them with powerful and innovative applications to deliver their lessons. We offer inbuilt AI-powered evaluation tools, 3-D content, and more, to make learning interactive.
WHY DOES YOUR BUSINESS NEED IONIC APPLICATIONS?
Ionic Framework is an open-source Software Development Kit that is a blessing for creating powerful Web or Mobile applications. The framework offers pre-designed and ready-to-use themes and typography that can be deployed across various platforms. All you have to do is develop a design and technical framework once, and you can replicate the same across platforms. Few benefits of having a mobile app on Ionic Framework:

User-Friendly Web or Mobile Applications
Ionic is an open-source language used to develop hybrid and cross-platform mobile applications.

Cost-effective Application Development
Developing an application could turn into a costly affair. However, with an Ionic framework, you can experience Web developers prefer this language because it comes with cross-platform compatibility.

HASSLE-FREE CUSTOMIZATION
The ionic framework comes with an in-built stack. It can be used to onboard your existing web or mobile application with ease. Ionic is a web development language that allows developers to experience hassle-free customization.

Ionic comes with high-degree security assurance. Your data are well-protected within the realm of Ionic security features. It maintains the integrity of maintaining a high degree of data security on both business and customer ends.

You seldom come across a web or mobile application development platform that offers the best services at a lower cost. Ionic offers you a high degree of customization and cutting-edge solutions that are efficient and cost-effective.
Need More Reasons to Partner with Orion?
The wide-range of experience and excellence of our Ionic development services allow us to help businesses in diverse industries. We help them achieve the best potential from their web or mobile applications. As a top-rated Ionic development company, we make sure to assign some of the best and highly experienced Ionic programmers for the projects we take up. We free you from the burden of hiring and training the ionic developers. Below mentioned are few reasons that make us an ideal partner for your success.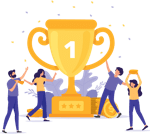 WE DELIVER WITHIN YOUR BUDGET
We offer Flexi-pay payment plans. We understand that cost of development of an application eats into the bottom line of many small businesses. Therefore, we ensure timely delivery of the development projects we undertake and within the prescribed budget. What's more, you pay only for the services rendered.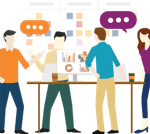 WE TAKE CARE OF RECRUITMENT AND TRAINING NEEDS FOR YOU
Your business requires your constant attention. Therefore, we free you from worrying about your Ionic development needs. Our team of Ionic consultants will provide you with a host of solutions for your applications, from integrating multiple data sources into one system to implementing automated testing platforms. We hire the best for you, thereby saving you hassles of training, recruiting, and retaining the workforce.

WE HELP YOU LOWER DOWN COST OF RUNNING YOUR OPERATIONS
Orion provides you with industry-certified Ionic Developers who work from remote locations. That brings down the overall cost of running the operations. You no longer have to invest in physical infrastructure.

USER-FRIENDLY AND INNOVATIVE WEB SOLUTIONS
Ionic Developers at Orion eSolutions have expertise in designing and developing Ionic applications. You benefit from that as it provides great flexibility and scalability to your business. We offer end-to-end integration of your applications with the host of Cloud services as well.

INTEGRITY AND TRANSPARENCY
We follow high-degree protocols in ensuring transparency and integrity when we work with you. You have put trust in us, and we make sure we deliver. Our Android Developers work day-and-night to keep your data secure. We run multiple test runs to rule out any glitches. Our team works on fixing bugs at the backend so that your customers can have a seamless experience on your Android App.



2,000+
Man Years Experience

2,500+
Satisfied Customers

Frequently Asked Questions
Though there are a number of considerations to keep in mind while hiring an Ionic developer, you must ensure that the expert you are looking forward to work with has the following qualities.
At least 3-4 years of Ionic Development Experience
Has worked on diverse product, industry portfolio
Must have relevant experience to provide scalability to legacy application management and enhancement
Definitely, a web solutions company. Look forward to hiring a web development company that is amongst the top 1% of the web spectrum. You must pay special attention to the fact that they provide services to small and medium enterprises. Free-lancers might have technical expertise, however, they lack consistency and you might get stuck if he or she decides to back out. With a dedicated web solutions company, you get a dedicated developer, backed by the whole team, to work on your development needs.