Searching for a Top iOS Developer in India?
Orion eSolutions provides you with the best-in-class iOS Developers.
If you are an aspiring small or medium business enterprise looking to enhance your business reach by targeting new customers, you need an iOS web or mobile application. iOS powers 25% of all the applications around the world. With the market-share that huge, you cannot afford to miss out on the opportunities that an iOS application brings to your business.
Of course, you must be aware of all that and are desperately looking for an iOS developer. However, it would have been frustrated to find a developer that could provide you value for money. At Orion, we specialize in helping small and medium businesses with their web or app development needs. Through our rigorous selection procedure, we handpick the industry's most talented and technically sound iOS developers. We make them undergo training on the latest processes in the technology world. In the end, what you have is a polished and talented set of iOS developers, who partner with you on your technical project.
We understand the aspirations of a business owner. We truly do. That is why we are known in the tech industry as a provider of skilled technical talent. So, if you are looking for iOS developers, Orion is there for you. We provide scalable, reliable, cost-effective iOS applications, Orion eSolutions is your one-stop-shop.
Orion is your technical powerhouse to drive your growth and success. We are numero uno when it comes to providing:
Guaranteed Response within One Business Day!
The iOS Web and Mobile Services We are Known for
When we say that you, our valuable client, are a priority, we mean it all the way. When you collaborate with us, we dedicate a developer or a complete team of developers to your project. That ensures speedy, efficient, and timely delivery of the agreed results. We brainstorm and thrash out all the capabilities that need remodeling or are required to provide you with a holistic iOS application. Once we are through that, we prepare a detailed roadmap of tasks and execution deadlines for your consideration.
CUSTOM IOS WEB APPLICATION DEVELOPMENT
You have a particular requirement for an iOS web or mobile application, we can fulfill that. With Orion, you get industry-certified iOS developers who have at least four years of experience. You have the complete authority to test the skills of our developer or the team. We are sure they'll pass with flying colors. Our iOS developers will provide you with highly customized, extremely responsive, and user-friendly mobile applications.
IOS migration AND UPGRADATIONS
If you have a Legacy App that needs capability enhancement, Orion has just the perfect iOS developer for you. Our developers have in-depth knowledge of Objective-C, SWIFT, HTML-5, CSS3, and X-Code programming languages. We provide complete overhauling of the existing applications and migration to the Cloud Ecosystem speedily and efficiently.
You have a vision for what you want in an app, we have the capability of turning it into a reality. We run a complete system-check to provide you with well-documented research. It will help you out to decide on the features that you want for your custom iOS application. We are experts at formulating, designing, developing, and launching iPhone applications that are the most suitable to your business needs.
IOS BASED CMS DEVELOPMENT
In today's World, if you have the knowledge or data, you have the power. That is where our efficient iOS Customer Management Services (CMS) come into the picture. Our team of IOS web developers is trained to build an iOS-based custom CMS using the MVC architecture. It will provide you modular, maintainable, and reusable code.
We highly recommend that a small or medium business utilize the Cloud Ecosystem to reduce the cost of developing a physical tech infrastructure. As someone wise once said, a penny saved is a penny earned. We understand the nitty-gritty of taking your system to the Cloud in a low-cost and efficient manner.
API INTEGRATION DEVELOPMENT
Our team of iOS developers is highly skilled in private, public, and internal APIs to offer a hassle-free experience and integration of third-party services.
Apple is an industry-standard for having the most aesthetically designed products. In the same way, we are the industry touchstone in helping your customer experience a seamless and aesthetically pleasant UX interface of your iOS application.
Smart wearable applications
We admire the sheer brilliance of that genius, who thought of bringing technology to the realm of fashion wearable. Industry estimates suggest that smart wearable technology will continue to develop at a fast rate. To offer your customer one seamless experience of your applications on smart wearable, we provide our expertise in designing, developing, and optimizing your iOS web or mobile application.
THE INDUSTRIES WE ARE TRANSFORMING THROUGH OUR EXPERTISE.
As India's top tech-solution provider, Orion has a tradition of excellence. We stop at nothing but providing the best experience to our customers. Our iOS development capabilities are the best in the class. With experience that spans over a decade, we have been fortunate to partner with the best companies from diverse industries. You could be a media company, consultancy, healthcare provider, or more; if you require ionic applications, we are here for you. Have a brief look at the industries we have served.
We offer HIPAA-compliant software solutions and applications. For example- claim adjudication, PACS/HIE APIs for enhancing improved medical care. iOS web and mobile applications with their inbuilt features allow for a high degree of customization to applications. We also understand that the applications must run on all the devices effectively. Therefore, we deploy the power of HTML-5 and CSS3, which allow us to build hybrid iOS applications with a single code-base.
Shopping is as much an intuitive experience as a therapy for the soul. We try to recreate the same intuitive experience through the highly customized iPhone applications that we develop. We integrate X-code, the official Apple IDE, which makes an application agile and intuitive.
Financial transactions and operations require speed and data protection of the highest sorts. You can gain efficiency through our high-quality and enterprise-grade software applications like asset management apps, crypto wallet apps, POS, etc., powered by the Ionic framework.
Travel and tourism is a highly volatile business, sensitive to the whims of the travelers. Our expertise in building high-response and easily navigable applications has helped the best in the industry. We provide excellent applications that provide- virtual tours, AR navigation, payment gateways, kiosks, ERP, and eTicketing systems.
Digitize the media and entertainment experiences with applications such as video streaming, CRM, brand management, AI chatbots, etc.
The education world is moving at a breakneck speed towards digitization; so are we. We partner with a few of the best education companies to provide them with powerful and innovative applications to deliver their lessons. We offer inbuilt AI-powered evaluation tools, 3-D content, and more, to make learning interactive.
Your Business needs an iOS Application for Growth.
iOS is an open-source, user-friendly, easy to learn, and safe web development language powering approx. 25% of all the smart devices; no surprises then that the customers crave to have access to enterprise iOS applications for any business, big or small. The businesses are making a mad-dash to onboard their marquee legacy-apps on the iOS interface. Read on to know more.

iOS Framework provides a Cost-effective application enhancement or development.
iOS is an open-source and completely affordable web development language. Of course, an Orion iOS developer is well versed with not just that. He is fully proficient in Objective-C, Cocoa Touch, Swift 3.0 programming, etc. In-depth knowledge of key-functionalities of the iOS interface allows us to harness the best at the lowest possible cost.

iOS Interface allows for Cross-Platform Compatibility
Hybrid iOS apps are possible with the iOS interface. Web developers prefer this language because it comes with cross-platform compatibility. You can optimize any app to function perfectly well on any smart device.

HASSLE-FREE CUSTOMIZATION
Building web applications based on specific business requirements is pretty easy with the iOS platform.

Security experts the world over swear-by iOS's security features. iOS comes with great security assurance that allows for data-protection, bug-fixing, etc.

iOS is a user-friendly interface that is preferred by developers around the world. The in-built customization features, with no or very little cost, are a delight.

iOS also offers multilingual support, which makes it easy for the developers to work with this language.
We Have More Reasons That You Must Collaborate with Orion.
The wide-range of experience and excellence of our iOS development services allow us to help businesses in diverse industries. We help them achieve the best potential from their web or mobile applications. As a top-rated iOS development company, we make sure to assign some of the best and highly experienced iOS programmers for the projects we take up. We free you from the burden of hiring and training the ionic developers. Below mentioned are few reasons that make us an ideal partner for your success.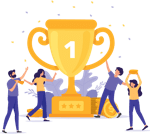 WE DELIVER WITHIN YOUR BUDGET
We offer Flexi-pay payment plans. We understand that cost of development of an application eats into the bottom line of many small businesses. Therefore, we ensure timely delivery of the development projects we undertake and within the prescribed budget. What's more, you pay only for the services rendered.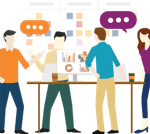 WE TAKE CARE OF RECRUITMENT AND TRAINING NEEDS FOR YOU
Your business requires your constant attention. Therefore, we free you from worrying about your iOS development needs. Our team of Ionic consultants will provide you with a host of solutions for your applications, from integrating multiple data sources into one system to implementing automated testing platforms. We hire the best for you, thereby saving you hassles of training, recruiting, and retaining the workforce.

WE HELP YOU LOWER DOWN COST OF RUNNING YOUR OPERATIONS
Orion provides you with industry-certified iOS Developers who work from remote locations. That brings down the overall cost of running the operations. You no longer have to invest in physical infrastructure.

USER-FRIENDLY AND INNOVATIVE WEB SOLUTIONS
The iOS developers at Orion eSolutions have expertise in designing and developing Ionic applications. It provides great flexibility and scalability to your business. We offer end-to-end integration of your applications with the host of Cloud services as well.

INTEGRITY AND TRANSPARENCY
We follow high-degree protocols in ensuring transparency and integrity when we work with you. You have put trust in us, and we make sure we deliver. Our iOS Developers work day-and-night to keep your data secure. We run multiple test runs to rule out any glitches. Our team works on fixing bugs at the backend so that your customers can have a seamless experience on your iOS App.
2,000+
Man Years Experience
Frequently Asked Questions
When you hire a dedicated iOS developer, it gives you the flexibility to customize your web or mobile app development needs. Moreover, it ensures the timely completion of the project. 
There are many considerations; however, the expert you hire must come with at least 4 years of experience. He or she must be comfortable with the iOS framework, X-Code, HTML-5, CSS3, etc. to provide you with the application you want. 
Well, freelancers are a cheaper option but hiring them comes with a little risk. For any reason, your freelancer developer backs-out, your project would be in limbo.
With a dedicated web development company such as Orion, you get access to the developers, who have the support of the backend team. It ensures the timely completion of the project.
We work as your resource to ensure your business's success!