Hire A Dedicated Shopware Developer
Shopware is an open-source e-commerce platform that has revolutionized the complete online shopping experience. It is powered by Symfony and Vue.js frameworks, which provide a highly customer-oriented online e-commerce experience. With in-built future-ready features, your business can scale its potential within no time. Shopware, with its API-first approach, provides flexibility to both the developers and the end-users. It provides a valuable platform to stream and access both commerce and content for your customers.
Guaranteed Response within One Business Day!
Orion is Your Partner in Your Growth
Hire Top Industry-certified Shopware Developer from Orion eSolutions
Orion is a highly customer-centric tech solution provider, and we are here for your technology needs. We offer an experienced, in-house team of Shopware developers who will work exclusively on your project. That way, you can drive more sales through your online presence, with more than 70% savings. To grow a business, you need tech collaboration, and no one in the industry understands the technology better than we do. Moreover, with Orion, you are free of all the hassles involved in creating a customized web solution. You take care of the business; we take care of the technology end. It is a perfect collaboration!
Orion's Shopware Expertise at A Glance
Our team provides a complete range of services to a business of any size. We have worked with the who's who of the corporate world and have the tech knowledge to suit your project needs. Have a look at our Shopware Services.
Custom Theme Development & Customization
We firmly believe that your e-store must reflect your personality. Towards that end, we keep 'you' and 'your business in mind while designing and developing that perfect theme for your e-commerce store.
Plugins Development & Customization
Shopware platform enriches the developer-experience and customer-experience with its Plugins options. The Plugins take care of a variety of features that you want your customers to experience. From providing e-carts to trial rooms to checkout and payment options, you get the store of your dream. The platform offers unique flexibility to deploy a custom-built Plugin for the feature of your desire.
Shopware is based on API first approach. It provides an intrinsic ability to connect your infrastructure and services through REST APIs. With our expertise in developing highly sophisticated web and mobile applications, we understand the whole framework of connecting your e-business with other applications with unique features.
You might have an existing legacy e-commerce platform. However, it might not be suitable for today's hyper-competitive, user-side drive. We have years of experience in taking the existing frameworks to the Shopware platform quickly and at a low cost.
We are an industry talk when it comes to providing cloud services to businesses. We can help you set up your complete e-store on the Cloud with minimal costs. We can provide you with consultation on assessing your existing infrastructure capabilities vis-à-vis your business requirements.
The Tech world is forever changing. To be competitively relevant, you must be in-sync with technological developments. We undertake the complete system and framework maintenance services for you. You don't have to worry about anything when you take Orion on-board your maintenance requirements.
Orion developers have decades of experience working with diverse companies from diverse industries. ​
One's success in the tech industry lies in one's ability to offer customized solutions to diverse businesses and industries. At Orion, we have developed and enhanced that ability for a decade now. Our industry-specific footprint is a matter of pride for us. Read on to know more about How Orion has Helped Businesses and Industries.
We have mastered the concept of 'tailor-made' solutions. Fashion brands thrive on just that. With the utmost necessity of providing a seamless shopping experience, we develop the complete online store for fashion brands incorporating their requirements.
Travel and Tourism applications need to be highly intuitive to the users' requirements. We build custom travel and tourism e-stores for several tour operator companies. We provide features that allow the customers to access the properties, hotels, etc. through the virtual tours features. Our Shopware developers are experts at providing a real-time experience to viewers online.
The education eco-system is reaping the unparalleled advantage that technology is offering. Technology has offered a unique ability to education companies viz. to provide customization to the students and end-users. Therefore, we offer our expertise in designing, developing, and taking the complete education offerings of an Edu-tech company online.
If you are a food company, then you might have experienced your customer's demands as per his taste. How to food customization right online? Well, no worries. Orion developers have worked with food brands and businesses to build their complete e-food stores online.
Need More Reasons to Prefer Shopware for Your E-store?

Whether you are a small, medium, or large business and from any industry, your business requires an online product display to drive sales, you must make a transition to the Shopware platform.

High Level of Data Security
As the Shopware platform is based on API first approach, it provides a high degree of safety to your data. Using the API interface doesn't expose your data to the server. Only the interacting applications are active.

Shopware platforms allow for flexibility to scale your e-shopping portal. The platform's inbuilt features provide a great web experience to the end-users and the developers.

Every business requires unique solutions. However, not every development platform allows customization that suits your every consideration. Shopware does. Plugin management helps you to streamline the complete online shopping experience as per your requirement. You can build rules for the store that can be utilized on any device interface.
Shopware Developers From Orion eSolutions?
We are not just paying lip service when we say that we are highly motivated tech solution providers to any business. We have been fortunate to collaborate with hundreds of businesses around the World and help them enhance their business revenues. The wide-range of experience and excellence of our Shopware development services allow us to achieve innovation when it comes to setting up e-commerce businesses. We make sure that the developers we provide you to work on your project are tested rigorously. All said you have the full authority to gauge the proficiency of the developers before the start of the project. Below mentioned are few reasons that make us an ideal partner for your success.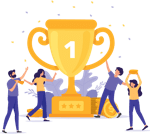 WE DELIVER WITHIN YOUR BUDGET
The cost of development of an e-commerce store eats into the profit of many businesses. Thousands of variables choke-up your resources. Therefore, we ensure timely delivery of the development projects we undertake and within the prescribed budget. What's more, you pay only for the services rendered by selecting any of the Flexi-pay payment plans.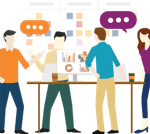 WE RECRUIT AND TRAIN THE DEVELOPERS IN-HOUSE
We are sure that you must have experienced the unpredictability that comes with hiring a freelancer. It distracts you from paying attention to your core business. When you hire from us, we free you from worrying about your project. Our team of experts will provide you with a host of solutions for your project from designing your e-store to setting up payment options during checkout. We hire the best for you, thereby saving you hassles of training, recruiting, and retaining the workforce.

WE HELP YOU CUT COST OF SETTING UP YOUR E-STORE
We are ambitious in our ability to provide highly cost-efficient solutions. Orion provides you with industry-certified Shopware Developers who work from remote locations. That brings down the overall cost of running the operations.

USER-FRIENDLY AND INNOVATIVE WEB SOLUTIONS
Shopware Developers at Orion eSolutions have the expertise to provide great flexibility and scalability to your business. We offer end-to-end integration of all applications on your e-store platform.

INTEGRITY AND TRANSPARENCY
We follow high-degree protocols in ensuring transparency, integrity, and maintaining trust when we work with you. Our developers work day-and-night to keep your data secure. We run multiple test runs to rule out any glitches. Our work is our reflection of the ethical standards and practices that we have at Orion.



2,000+
Man Years Experience

2,500+
Satisfied Customers

Frequently Asked Questions
Well, that totally depends on the nature of the project. Is it a full-on design, development project? Or scaling the existing capacities. In our reporting brief, after checking your system and business needs, we provide a roadmap to you.
We want to save every possible expense. We suggest Cloud on-boarding that ensures a reduction of almost 60-70% of the cost.
No developer has had less than 3 years of experience working with Shopware interface.