The menace of the COVID-19 outbreak originated from China has created a harrowing impact all over the world. Along with its effects on the health of people, it has crashed the economies of all countries while resulting in the loss of lives and jobs. With an ever-increasing rate of Corona outbreak cases, an increasing number of patients are now confined in the four walls of their homes.
Although the situation shows no signs of improvement any time in the future, many sections of the society are being enforced to look ahead for an alternate option for running their day to day operations. The world of business does not make any exception to this rule. Fortunately, the power of technology has kept the business world going and has turned out to be a saving grace for many industries. Business ideas after COVID-19 outbreak can turn out extremely successful if they are based on creating value.
Many people from all around the world have been using the technology for implementing new ideas and starting revolutionary ventures. In this article, we will list eight business ideas to implement after COVID-19. So, let's begin: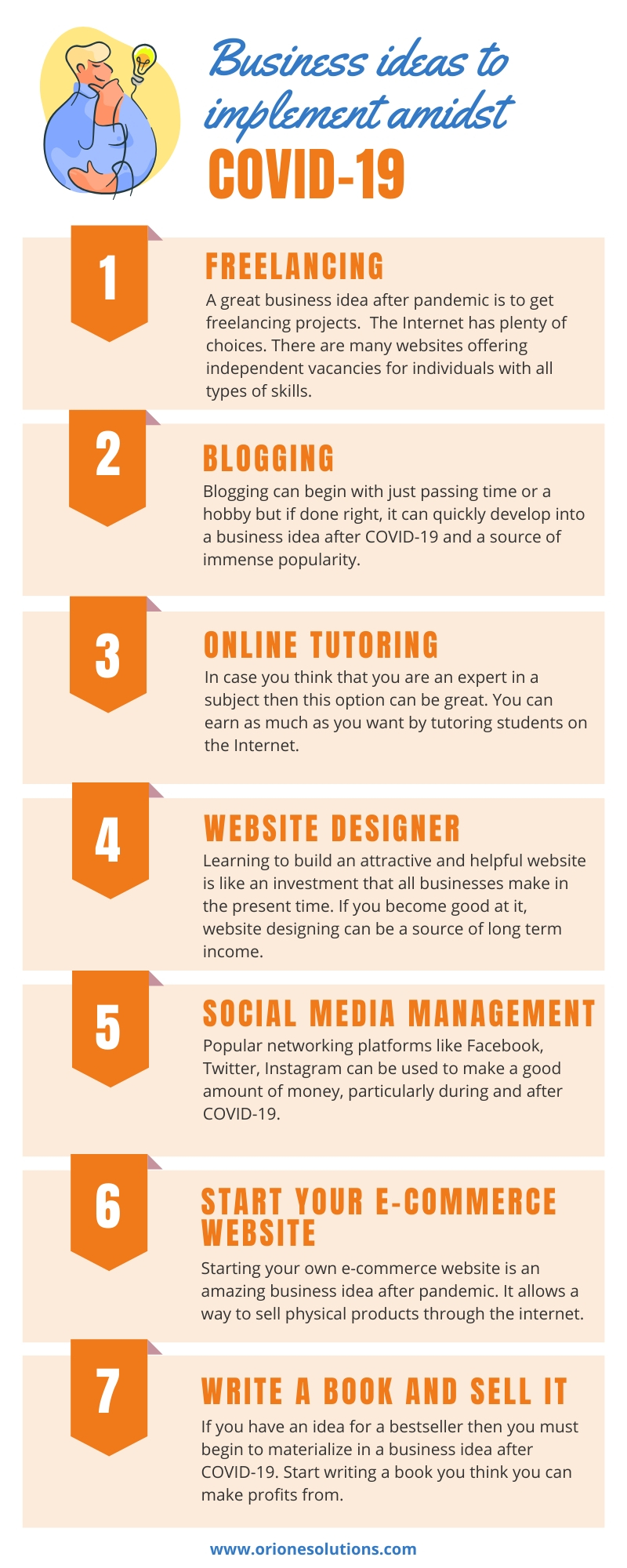 1. START FREELANCING
A great small business idea after pandemic is to get freelancing projects.  The Internet has plenty of choices. There are many websites offering independent vacancies for individuals with all types of skills. 
You can simply make an account on popular freelancing websites like and apply for posts that suit your skills. When you join websites like upwork.com, freelancer.com, fiverr.com, etc, you can access many employment options that match your skills.
The best part about freelancing is the fact that you can work at any time and from anywhere you want. Additionally, you get a chance to improve your skills and talents and get paid for something that you are good at. It is a win-win option for both employers and employees. 
After gaining relevant experience, you can start getting projects for your own small business ventures. Since freelancing teaches you the art of pitching and closing deals successfully, this skill will be really useful when you run your small business.
2. BLOGGING
Blogging can begin with just passing time or a hobby but if done right, it can quickly develop into a business idea after COVID-19 outbreak and a source of immense popularity. You can start with websites like WordPress and Tumblr to begin blogging with no investment.
Once your blog gains popularity, you can buy the domain name.  This method provides a way of earning money with the help of ads, product reviews, affiliate marketing, etc. It is important to note that it takes a consistent effort and passion to earn money with this method but once the blog becomes popular, you can monetize it into great profits.
3. ONLINE TUTORING
 In case you think that you are an expert in a subject then this option can be great. You can earn as much as you want by tutoring students on the Internet. Online tutoring offers a method of connecting with learners across the globe and assists them to score better grades, gain confidence in their abilities, and finish homework effectively. 
For gaining experience you sign up on a legitimate online tutoring platform and list your expertise in any subjects, your qualifications, certifications, etc. After you get a hang of the technique, you can implement online tutoring as a business idea after pandemic. The best thing about an online tutoring small business is that it is highly flexible, comfortable, and rewarding. Once you start working and earning good reviews as an online tutor, you can succeed at a rapid rate.
4. WEBSITE DESIGNER
You will find a lot of tutorials on the Internet for creating websites. Learning to build an attractive and helpful website is like an investment that all businesses make in the present time. If you become good at it, website designing can be a source of long term income. 
You can choose the best domain, template, font, information, and design for the websites. Develop a content strategy and offer constructive knowledge on the websites you make. Once your websites are ready, you can sign up for Google Ads to allow advertisements on your website. 
More the number of traffic and clicks on the ads, the better will be the potential to make profits. In the long term as well, a business idea after COVID-19 outbreak that is based on becoming a website designer can take off really well if you're good at it.
5. SOCIAL MEDIA MANAGEMENT
Social media is a great way of interacting with your friends, family, and colleagues. However, popular networking platforms like Facebook, Twitter, Instagram can be used to make a good amount of money, particularly during and after COVID-19.
A business idea after pandemic that revolves around high-quality social media management can take you far. In today's age, social media is one of the most important and best ways to generate leads. This small business requires staying updated with new trends and constantly interacting with followers. 
If you think that you are creative enough to propose an idea for posts that can go viral and you like connecting with people then this is a great option. Social media management is a need of the hour. So, if you are social media savvy then you can pursue it.
6. JOIN YOUTUBE
It is not hard to become a celebrity in the year 2020. All thanks to the wide reach of social media platforms like YouTube, almost anything that has the ability to catch the public eye can become successful overnight. Many people like Lily Singh, pew die pie have gained immense popularity following the same method.
If you are comfortable with talking in front of the camera then you can consider this option. Make your YouTube channel and begin creating content on anything that you are passionate about to get started.  Pick a topic that you are interested in and focus on creating impactful videos on a regular basis.
Everything from comedy videos, cooking shows, science, cars to political discussions can help you gain followers on YouTube. As you make your channel mainstream and your list of subscribers grows and so will your profits.
7. START YOUR E-COMMERCE WEBSITE
Starting your own e-commerce website is an amazing small business idea after pandemic. It allows a way to sell physical products through the internet. The best way to do this is by taking order requests on your website and utilizing a third-party source that specializes in manufacturing and shipping products. 
A significant thing to make this small business successful is by focusing on a specific category so that you cater to one market only. Start slow and expand gradually. Build a credible web presence with consistent efforts to have absolute control of your business. Soon enough you will be able to make your e-commerce platform successful.
8. WRITE A BOOK AND SELL IT
 If you have an idea for a bestseller then you must begin to materialize in a business idea after the COVID-19 outbreak. Start writing a book you think you can make profits from. In this world of the internet, aspiring writers can break free from the dependency on publishers and sell the books independently.
The best thing is that you will need to worry about the demands of publishers because Amazon allows people to sell books. However, you must know that the company gets a commission from the profits of every copy that gets sold but the rest will be yours. All that is needed is the strategic marketing of the book so that you will be able to sell the maximum number of copies.
CONCLUSION
Due to an aversion in the economy and many small businesses shutting down, technology-based business ideas will become a favorable option for earning money after COVID-19.  Irrespective of the area of expertise, a good investment in this domain will be extremely fruitful.
Take your pick from the options given above and start working on your small business idea so that it takes off and becomes big after the pandemic.