In case you have been thinking of moving your eCommerce business to that of the cloud then there are three important methods of cloud computing that you know about in complete detail. They are Iaas, Paas, and SaaS. It is pretty possible that you have heard about them and you have known how these functions before. The fact of the matter that they are all becoming popular with an increase in the number of people who adopt cloud computing.
After gaining a little fundamental information about their popularity and their use, we will now begin to understand the differences between them. So, let's begin.
IaaS vs PaaS vs SaaS
Most often than not, the IT systems of a company have been on-premise and cloud computing was unheard of. IaaS, PaaS, and SaaS were just the ways that were used to describe the use of cloud computing for businesses.
Down below, we will see the detailed explanation of these methods along with finding the answer to IaaS vs PaaS vs SaaS: Which one is better?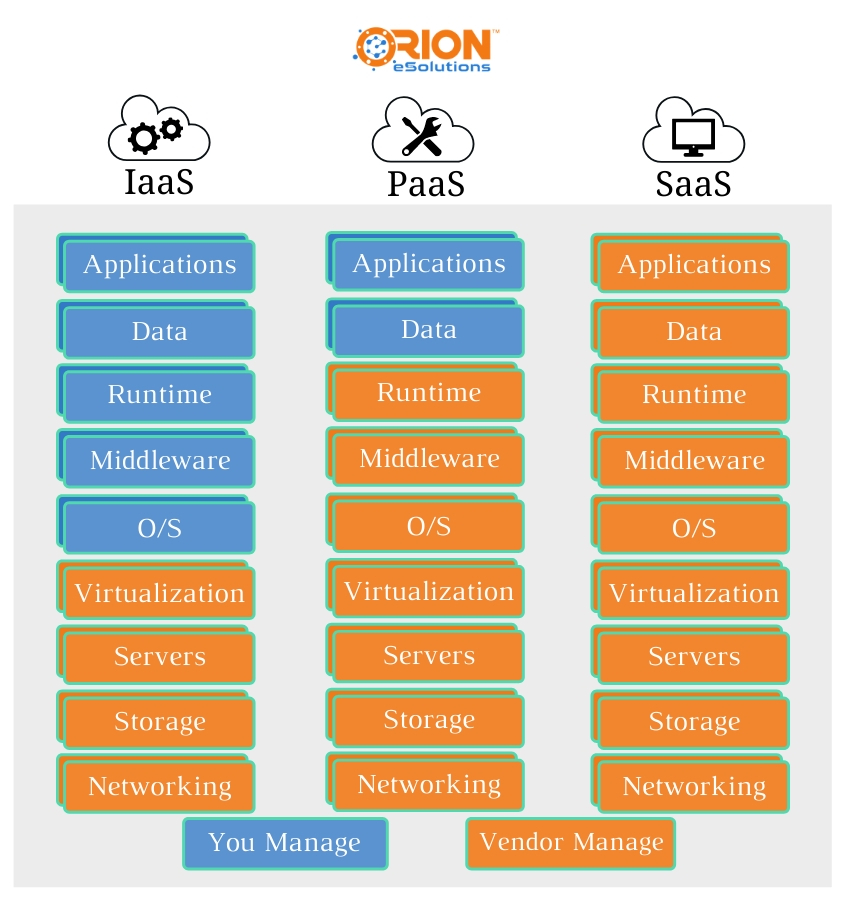 IaaS
IaaS is actually the cloud-based service in which you pay as you go for accessing benefits such as storage, networking, and virtualization. The most common examples of the IaaS services providers are Google Computer Engine, Digital Ocean, Magento 1 Enterprise Edition, AWS EC2, Rackspace, etc.
IaaS, also known as Infrastructure as a structure service enables the users to access cloud-based alternatives to the on-premise infrastructure so that the businesses can easily avoid risking the overpriced on-site resources. IaaS delivery is done over the internet. Some of its main advantages are:
COST: 

There is a significant investment needed in the physical hardware and after that, there will most likely be a need to engage in external IT contractors for maintaining the hardware while keeping everything working and up to date. With IaaS, one can buy anything they need, when they need it and purchase more as the business keeps growing.
FLEXIBILITY: 

IaaS cloud computing solutions are very flexible and scalable. They can be replaced anytime without worrying about the need to lose money on the initial investment.
COMPLETE CONTROL: 

With IaaS, one can have complete control over accessing and overseeing the IaaS platforms.
IaaS is beneficial to businesses of all shapes and sizes because it enables complete control of the infrastructure and operates on a pay as you go, service model. IaaS is a great method to future proof the business. 
PaaS
PaaS consists of hardware and software tools that are available over the Internet. The most common examples of PaaS are Heroku, Windows Azure, Force, OpenShift, Apache Stratos, Magento Commerce Cloud, AWS Elastic Beanstalk, etc.
PaaS is known as a platform as a service. Its delivery is done on the internet and some of its common advantages are:
SAVES TIME AND MONEY: 

It is used by developers who are building software applications. With its use, they don't have to start from the beginning while creating applications that save them time and money.
AFFORDABLE: 

It is a very popular choice for businesses that do not wish to create unique applications without spending more money.
SCALABLE: 

PaaS can be chosen from multiple tiers of resources to suit the businesses of any size.
PaaS is usually the most cost and time-effective cloud computing for the developer. It allows the developer to focus on the creative side of the application development in contrast to the small tasks like managing the software updates of features. The software developers can use their energy constructively in creating, testing, and deploying the right apps.
SaaS
SaaS is the software that is available via a third party over the internet. The most common examples of SaaS are Google Apps, Salesforce, Dropbox, ZenDesk, DocuSign, Hubspot, Slack, etc.
SaaS is known as software as a service. The SaaS platforms make the software applications easily available for use on the internet mostly on a monthly subscription fee. The most common benefits of SaaS are:
NO INSTALLING: 

There is no need to install and run the software applications on any computer because with the help of SaaS everything is available on the Internet right when you log onto the computer. The software can be accessed from any device and at any time because everything is on the cloud.
PAYMENT STRUCTURE: 

SaaS providers provide simple and efficient solutions for complex and large organizations. They save both time and money. One can have the software application running quickly along with customer service and support.
Using the SaaS platform is ideal when you want an application to run smoothly and reliably with very little input from you.
IaaS vs PaaS vs SaaS: WHICH ONE IS BETTER?
An increase in the popularity of the IaaS, PaaS, and SaaS is the reason for a reduction in the use of on-premise hosting. Almost each cloud model offers important features and functionalities and this is why it is important for your organization to understand the differences well enough.
Regardless of whether you require a cloud-based software application for the storage, a smooth platform that enables in creating customized applications or you need complete control over the infrastructure, there is a cloud service available. There is no such thing as a better choice because what may be the right choice may not be the same for another. So, no matter what you choose, migrating to the cloud will be the future of business and technology.