DEVOPS TRENDS 2020
DevOps as service associates itself with continuous enhancement as it records new and evolved trends dominating in the year 2020. A field that is on the move as swiftly as DevOps, it is pretty significant to understand the future that lies ahead.
The year 2019 saw the security becoming more tightened along with an integrated development lifecycle and operational workflows. Artificial intelligence, automation, and AIOps were adopted and researched more in the previous year. In addition, functions-as-a-service (FaaS) and containers grew further while allowing operations teams and developers to assume better control of applications and infrastructure without any hindrance.
In essence, the DevOps trends are introduced year after year to create a working environment in which building, testing and deploying of the software becomes easy. Based on a study, the market of DevOps is projected to reach a total of 8.3% CAGR in terms of value from 2019 to finally reach USD 14.58 billion by the year 2026.
The DevOps trends 2020 is expected to reach its peak and revolutionize the field. In this blog, we will find out the top five DevOps trends that will be dominating 2020. Let's begin: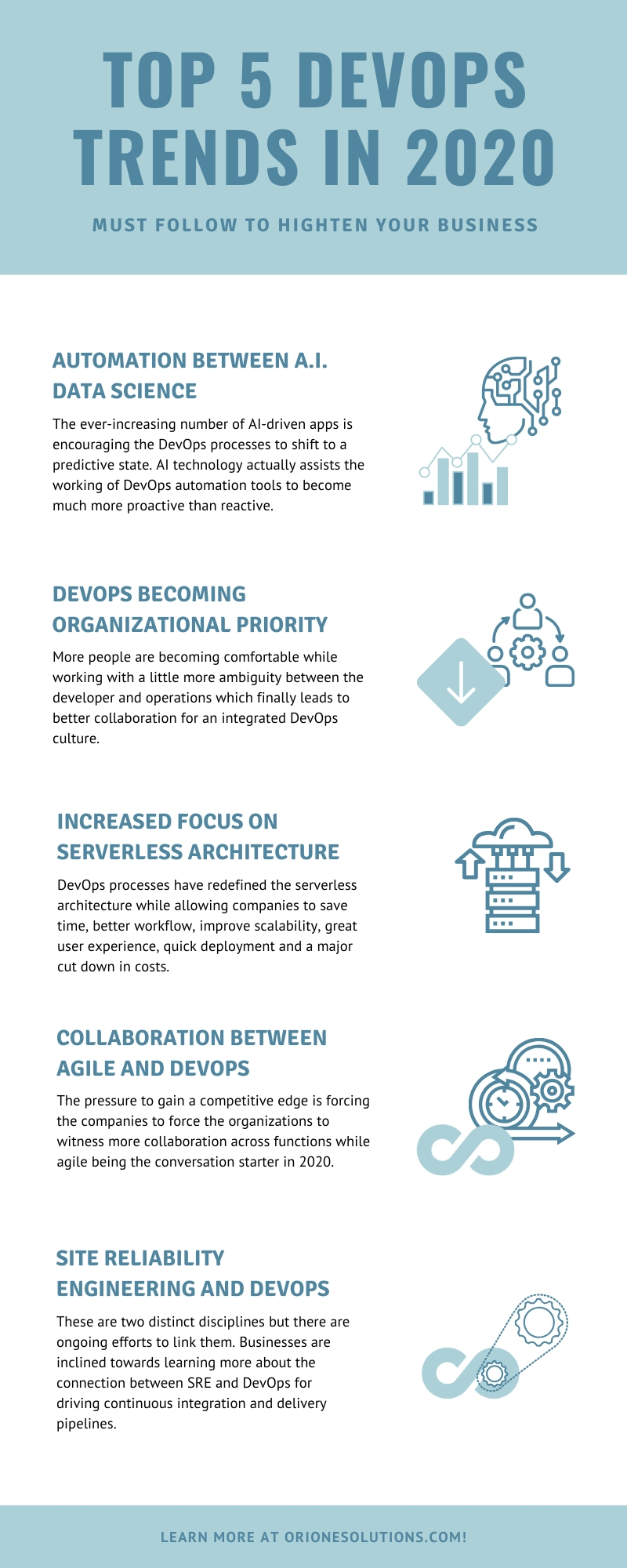 AUTOMATION BETWEEN A.I. DATA SCIENCE
The ever-evolving AI technology and data science form an important connection in the DevOps realm. This technology can help the DevOps service providers to find out where the issue is arising in continuous integration and continuous development while acting efficiently on the data collected by the customers.
The ever-increasing number of AI-driven apps is encouraging the DevOps processes to shift to a predictive state. For example; these apps can help in finding out the changes that should be made to improve the CI pipeline. AI technology actually assists the working of DevOps automation tools to become much more proactive than reactive.
As more and more firms look for enhanced efficiency and quick deployment, DevOps automation will become a much relevant topic in the year 2020.
ADOPTION OF DEVOPS WILL BECOME AN ORGANIZATIONAL PRIORITY
With an increasing number of organizations adopting DevOps, more software professionals begin to understand the fundamental technologies, tools, and skills. Common practices such as unit testing and chaos engineering have become much relevant as the engineering organizations drive much less confusion around the topics.
Additionally, other practices that were considered old some time ago are becoming common for IT practitioners and the DevOps minded software developers. The software professionals are becoming much more comfortable while taking responsibility for the code that is written by them.
Things like on-call responsibility and quick response to prompts in real-time are becoming simple for software building and maintenance. More people are becoming comfortable while working with a little more ambiguity between the developer and operations which finally leads to better collaboration for an integrated DevOps culture.
INCREASED FOCUS ON SERVERLESS ARCHITECTURE
DevOps processes have redefined the serverless architecture while allowing companies to save time, better workflow and a major cut down in costs. Any reliable web development company in India prioritizes to focus more on the development of websites and apps that are based on serverless architecture.
This makes sure that there is developer productivity, improved scalability, great user experience, and quick deployment. Fundamentally, there is a cloud service that takes care of complete architecture.
BaaS and FaaS are two of the most important aspects of serverless architecture as they allow the software developers to stay focused on the application. With the adoption of serverless architecture that is prevalent, there is no doubt that the serverless market is expected to reach as much as USD 7.7 billion by the year 2021, up from USD 1.9 billion in 2016.
INCREASED COLLABORATION BETWEEN AGILE AND DEVOPS
Agile and the DevOps processes are the most important movements that begin with the technology. In multiple cases, these processes have not been able to break out of technology. Also, agile has also been adopted in many other functions including finance, human resources, marketing, and procurement.
Management personnel and senior leaders have been inviting their organizations to become increasingly agile. The pressure to gain a competitive edge is forcing the companies to force the organizations to witness more collaboration across functions while agile being the conversation starter in 2020.
Companies should encourage their teams to talk to employees belonging to different functions about their experience in agile methods. This assessment and conversation will help people from different functions to know each other better while improving collaboration.
EVIDENT LINK BETWEEN SITE RELIABILITY ENGINEERING AND DEVOPS
Most organizations will have engineers combine the applications of DevOps and site reliability engineering. They are two distinct disciplines but there are ongoing efforts to link them in the year 2020.
Better knowledge and expertise of the functions continue to grow in the year 2020 with more businesses recognizing the value between SRE and DevOps. While DevOps is a methodology for tightened collaboration between developers and operations teams, SRE is all about specific technical expertise held by the engineers.
Site reliability engineers are tasked with the written code and software solutions to IT operations and the infrastructure problems. DevOps offers a cultural shift in the direction of better transparency and an increased collaboration right from product development to integration, testing, and maintenance. Businesses are inclined towards learning more about the connection between SRE and DevOps for driving continuous integration and delivery pipelines.
CONCLUSION
The field of DevOps is such that it has not stopped growing as yet. It is constantly evolving and by all means, has a bright future ahead of it. With the number of benefits that DevOps offers, the model is being adopted by most organizations around the world. DevOps market is expected to grow by USD 12.4 billion guided by a compounded growth of 24.9%. 
Therefore, staying informed with the latest trends in the ever-evolving field of DevOps will give you a clear idea of where DevOps is headed in the future. All businesses that are looking ahead to gain new heights in the future must implement these trends in the year 2020.